Watch Now: 'He's a Survivor': Relic from Charleston's Past Comes Home | Story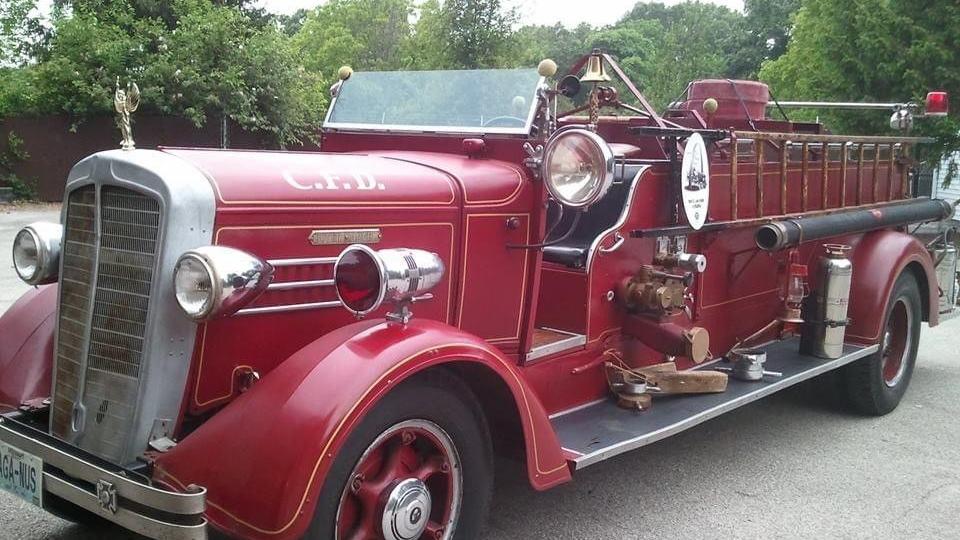 CHARLESTON – When Chuck Steib and his family bought an old Boyer fire truck in Champaign in 1984, they gave it new life in St. Louis – and a new name.
"A lot of the kids were little and they couldn't tell Agnes, so they call her A-ga-nus," said Kathy Steib, Chuck's wife. "And when Chuck went to get a historic license plate for it, 'Agnes' was taken and our last name was taken. So, we thought, 'What about Aganus?'
The truck then spent over 30 years going to parades, museums, conventions and sharing some of the history of firefighting.
"Chuck did a lot of things," said Kathy Steib. "And, you know, we would take him on parades, put the kids on the back, and he was very serious about everyone's safety." And it was just a lot of fun. You get a lot of attention.
Chuck Steib passed away in May and it became apparent that Aganus had to find another home.
It was at this point that Kathy Steib returned to the truck's original home in Charleston.
Fire Chief Steve Bennett and Nate Truex, President of the Charleston Fire Department Local 3200, were delighted.
The union provided $ 12,000 to purchase the truck, which it then gave to the city, Bennett said.
"I think the fire truck is amazing because it's a survivor – because it's unrestored, it's original," Truex said. "When you look at it, it won't be all in pristine condition or what you think of as a restored vehicle. It's original, meaning there are still bumps and bruises on the thing, the paint job. It's always like that. It is absolutely unbelievable.
"It has boosted the morale of the firefighters tremendously," Bennett said.
"We are grateful to the family who obviously contacted us first," Truex said. "As for the story, then all the documentation, whatever goes with it: you'll be hard pressed to find something like this in almost any other fire station."
Firefighters appreciate history and tradition, Truex said.
"We want to remember where we came from," he said. "Preserving part of our history, we just thought that was something we had to do. "
The old Boyer fire truck arrived in Charleston in 1937 and was the Charleston Fire Department's second motor vehicle. He remained for almost 30 years until his retirement in 1967.
"I remember it was just a back-up engine when I started working at the fire station," said Ed Ferguson, who served the department when the engine was in service in the 1960s. "The main fire that I remember catching it was when a large building burned down in the square."
The air was so cold that ice cubes formed from the water used to put out the fire, Ferguson said.
"It was about 10 degrees when we answered the call around 10 a.m., and I don't think it got much hotter than that," Ferguson said.
This race is included in another awesome piece of history that came with the fire truck: the original logbook.
"The unique thing about this situation is all of the original documentation that we have as well," Bennett said.
The additional documentation includes several other details, down to the counting of votes for the tax levy to obtain the truck: 1,732 votes against 1,335.
"It even includes our trip from Champaign to St. Louis," said Kathy Steib. "We broke down three times on the road to get there, and, you know, it only goes about 45 miles an hour. It was a long journey. "
Chuck Steib continued the logbook listing all of the parades and trips that Aganus has taken.
"The last parade he attended was the St. Louis Blues parade when they won the Stanley Cup," said Bennett.
The role Aganus played in the community of St. Louis and in the life of the Steib family has been immeasurable.
"We made a lot of friends and a lot of people were sad to see him go missing," Steib said. "But you know, it's just one of those things we had to do. And I'm so happy he's back in Charleston.
Aganus' next appearance will be at the Eastern Illinois University homecoming parade on October 23, Bennett said.
Photos: Firefighters and other workers recover flooded vehicles after I-55 flooded
062721-blm-loc-2floodsaving
062721-blm-loc-1floodsaving
062721-blm-loc-3floodsaving
062721-blm-loc-4floodsaving
062721-blm-loc-5floodsaving
062721-blm-loc-6floodsaving
062721-blm-loc-7floodsaving
062721-blm-loc-8floodsaving
062721-blm-loc-9floodsaving
062721-blm-loc-10floodsaving