The dilapidated Charleston house will be saved after being recommended for demolition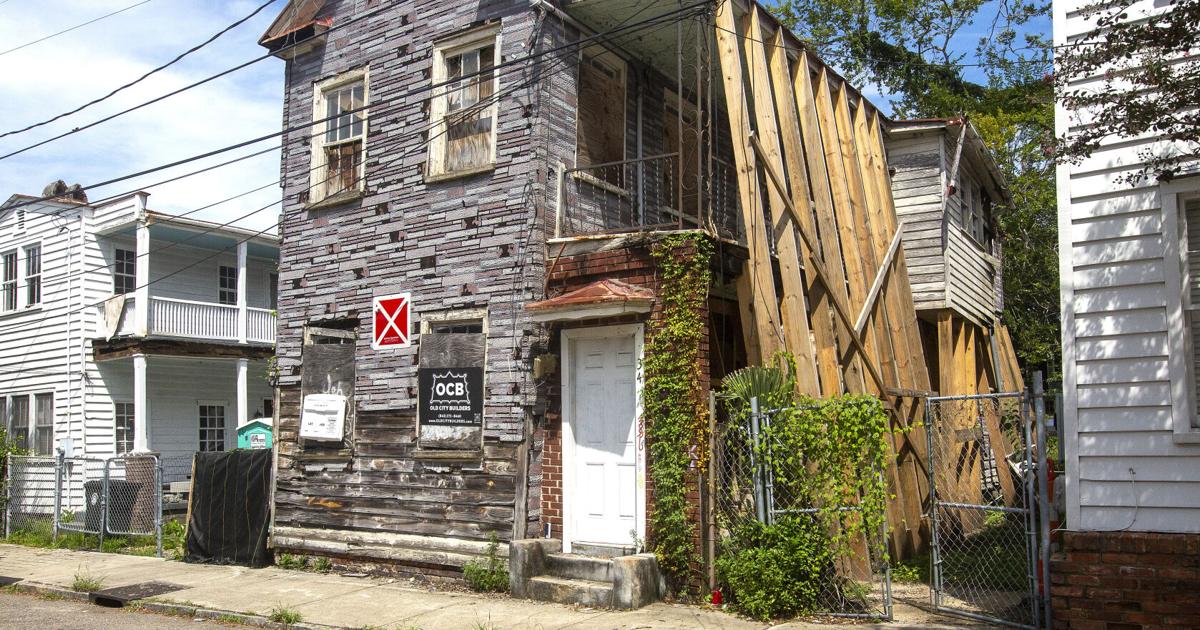 This year, a consulting engineer almost wrote the obituary of a dilapidated 19th-century house on the Charleston Peninsula.
Now the weathered, leaning structure is set to be saved after a conservative builder stepped in and bought the dilapidated home for $651,000.
In February, consulting engineer Russell Rosen of Rosen & Associates inspected the two-storey detached house at 34 Percy Street and wrote in a report: "Several sections of the floors and ceilings have collapsed. There are significant openings in the walls and roof."
He deemed the condemned and overgrown building unsafe. The city fire department affixed a security marker to the structure to warn emergency personnel not to enter.
"Based on our observations, very little, if any, original fabric can be salvaged or incorporated into a renovation," Rosen said. "Our opinion is that the building should be demolished."
The Preservation Society of Charleston disagreed and encouraged further examination of the house to avoid its proposed fate.
"Although the property has undergone insensitive alterations, the building still retains its characteristic single-family home form, as well as a significant amount of historic material," said Erin Minnigan of the Preservation Society of Charleston.
"This house is one of the earliest survivors of Percy Street and contributes to the historic character of the streetscape and the neighborhood as a whole," she said. "Having seen many examples of buildings in similar or worse conditions being successfully rehabilitated, we encourage further study of options for building preservation."
The demolition proposal was never presented to the Board of Architectural Review, which strives to save the city's historic structures whenever possible.
The application was withdrawn before the council could review it and then a 'For Sale' sign appeared on the property.
Shortly after, developer Cameron Glaws of Old City Builders, who specialize in renovating historic properties on the peninsula, passed by the site and noticed it was on the market.
After checking his bones to see what was salvageable, he decided the risk was worth it.
Shortly after July 4, he bought the dilapidated property where no one has lived for at least 25 years, if not longer.
"The price tag would have been laughable a few years ago," Glaws said. "The way the peninsula has gained value in this area, it's become more realistic and common now."
shore it up
The 1,428-square-foot home, believed to have been built around 1885, had three bedrooms and a bathroom, as best Glaws could determine.
He plans to turn the property into a three-bedroom, three-bathroom home that will be rented out to a family in a few years.
His first task was to brace the leaning structure to prevent it from crashing into the neighboring house.
To alleviate the clumsiness of the consulting engineer requesting the demolition of the structure, Glaws contacted Rosen & Associates for advice on consolidating the property.
"The consulting engineer was pretty specific," Glaws said. "This one is in pretty bad shape, but they already knew what condition the house was in, so why not ask them for help? Any house can be saved."
Huge support beams now brace both sides of the failing structure, with its missing planks, tattered gutter and clipped vines dangling from the roof.
"We pretty much stabilized him to make sure he didn't fall over," Glaws said. "I suspect my neighbors are happy with what we've done."
Shortly after the purchase, workers from Old City Builders cleaned the interior of the house.
"You can definitely tell it's been abandoned for many years," Glaws said.
When asked why he bought something in such poor condition, Glaws replied, "If done right, you can make a rehab like this meaningful. You can make it financially viable. It's expensive to do, but there's an investment calculation to do the project yourself."
He thinks the final restoration project, including new plumbing and underground utilities, could approach around $750,000, not including the initial purchase price.
"We intend to rehabilitate it as the house originally was," Glaws said. "It will be preservation in the strictest sense."
One of the first things Old City Builders plans to do, after analyzing the foundation and framing for structural integrity, is to insert steel I-beams under the house to raise the structure a few feet so work can begin to build a solid foundation.
After that, work can begin to bring it back to life.
Minnigan, with the Preservation Society, praised Glaws' effort and said he embodies that a neglected structure can be saved.
The company, she said, "is encouraged to hear of plans to restore this building to single-family residence, which shows that even after showing up on a BAR demolition program, buildings apparently dilapidated can be successfully rehabilitated.
She called the home's restoration plans "an ideal outcome for Charleston curators."
"Our historic building stock is very unique and irreplaceable, and we commend the developer for undertaking this project to save the structure," Minnigan said. "We look forward to seeing 34 Percy Street brought back to life and once again contributing to the character of the neighborhood."
save the past
Glaws is familiar with properties in similar states of deterioration.
During the latter part of the past decade, he helped renovate the Freedman's Cottages, a row of four one-story houses on Jackson Street built in the late 1800s on the Upper Peninsula. It is believed that up to 1,000 of the tiny houses were built in a late 19th century version of affordable housing as residences for the city's former slave citizens, as well as immigrants from Germany and Europe. Ireland.
Over time, the structures were abandoned and fell into disrepair. Many no longer exist.
One that does is now the office of Old City Builders, where Cameron and his wife, Kimberly, have a lot of preservation work on their plate.
A stone's throw from the Percy Street project is another Glaws renovation.
The rental building on Line and Coming Streets is undergoing renovations and is expected to be completed in the fall.
Last year, Old City Builders purchased the two-story structure at 95 Line St. and vacant land next door on Coming Street for $1.8 million. Glaws has been working on it for about a year.
When completed, it will have three apartments and a storefront. A commercial tenant has not been announced.
As for the house at 34 Percy Street, Glaws noted that the ruined structure was lucky to be in the holy city.
"In locales other than Charleston without an ingrained preservation ethic, it could be overturned quite easily," Glaws said.
He knows that the task of breathing new life into him will be exhausting.
"But," Glaws said, "that's gratifying in itself. … It's the preservation of a cultural resource."
In a light note, he pointed to the sign placed on the building to indicate that it is dangerous to enter inside and he noted his commercial sign next to it.
"The bad red X means all is not well," Glaws said. "The sign with the white lettering means everything will be fine."