ISKCON News | Locals welcome the return of the Festival of Colors to West Virginia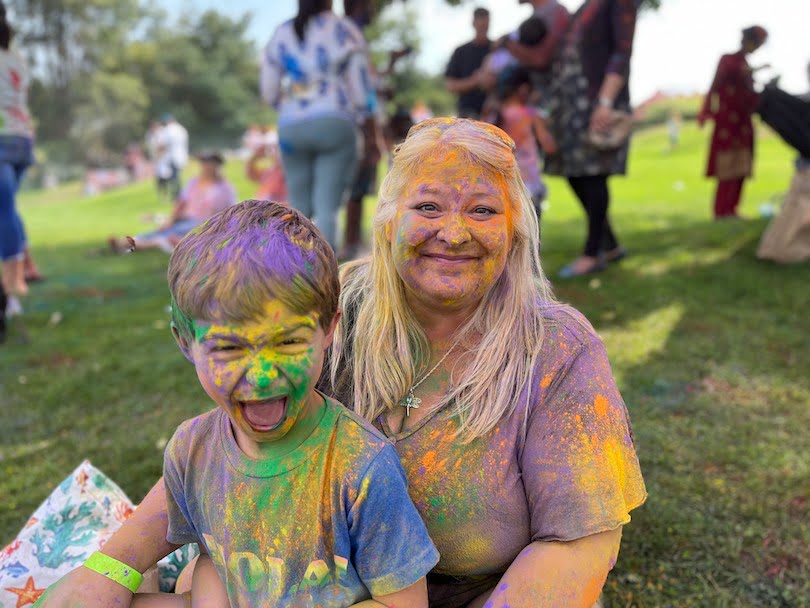 Locals welcome the return of the Festival of Colors to West Virginia
By Thomas Haribol | Sep 24, 2022
After a three-year COVID-related hiatus, the hills of West Virginia were once again blanketed in colorful clouds as locals returned to Prabhupada's Golden Palace for the 2022 Festival of Colors.
Guests enjoyed the musical styles of Devananda Prabhu, NamRock, Ananda Groove and Malini devi dasi, who also led the participants in dance and yoga. Local Sarah R. from Wheeling, WV said, "It was our first time, and we had a blast! We definitely make it an annual thing! »
Food was plentiful with offerings from King Dosa Saci Suta Nimai das of West Virginia. Plus, samosas, pizzas, generous plates of thali and mango lassis were shared with hungry guests. Plus, vendors offered quesadillas, smoothies, candies, textiles, jewelry, and the ever-popular fall flower crowns.
The neighboring Vedic palmist Sada Ruchi das was busy all day meeting guests, and our book table and distributors had successful meetings with guests curious about our philosophy.
"It was an amazing team effort," said community member Thomas Haribol, "As a newcomer, I was really encouraged by how the New Vrindaban community worked so hard all day to make it a positive and joyful experience for our guests."
As a spiritual icing on the cake, the event was graced with a visit from Mahavishnu Swami and his crew, whose unique style engaged the crowd in chanting the mantra.