Huntington Bancshares boosts ROTCE medium-term target on Investor Day (NASDAQ:HBAN)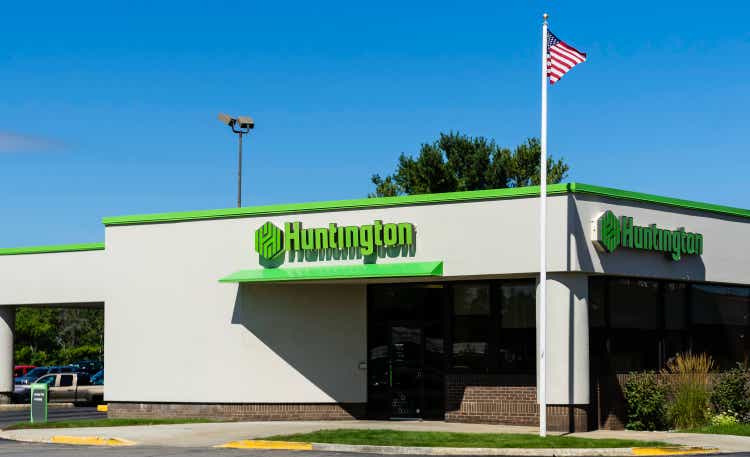 Huntington Bench Shares (NASDAQ:HBAN) increased its medium-term objectives for a 20%+ tangible common stock return, according to its Investor Day slides. By comparison, the bank's Q3 ROTCE was 21.9% and the adjusted ROTCE was 22.2%.
Excluding accumulated other comprehensive income, the ROTCE target is 17% to 19%.
The bank is targeting 6% to 9% pre-provisioning net income growth over the medium term and positive operating leverage. The outlook for PPNR "appears modest" compared to Evercore ISI's PPNR growth forecast of 14% year-on-year, analyst John Pancari said in a note.
Meanwhile, ROTCE's outlook was broadly in line, he said. Evercore ISI expects 24.5% for 2023.
Jefferies analyst Ken Usdin sees Huntington (HBAN) post-2024 EPS at $1.77-$1.97 if it delivers 17%-19% ROTCE, excluding AOCI.
Year-to-date, HBAN's ex-AOCI ROTCE is 17.6% and was 18.6% in the third quarter, Usdin noted.
The company's operating assumptions include net charges of 25 to 45 basis points throughout the cycle, compared to less than 15 basis points expected for 2022. Its CET1 ratio assumption of 9%-10% is unchanged from its previous operational guidance. For Q3, its CET1 ratio stands at 9.27%.
Find out why SA contributor Leo Nelissen sees Huntington (HBAN) as an attractive value.