Emily Rapp soars to 7-stroke victory in Charleston Ladies City Amateur | Sports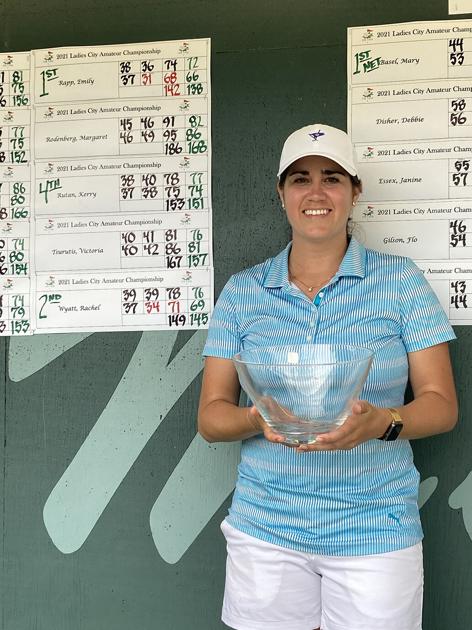 Emily Rapp, who moved to Charleston last year from upstate, birdied Sunday on six of her last 10 holes and scored a seven-stroke victory in the Charleston Ladies City Amateur played on the field municipal golf course.
Rapp, a former College of Charleston star, clocked a final round of 68 and finished the 36-hole tournament with a total of 142 over two days. Rachel Wyatt also managed to get a below par on Sunday, shooting 71 to finish at 149. Colleen Estes, who won the Ladies City Am in 2013, also finished at 149 with innings of 76 and 73.
Robin Moyer won the Seniors division for players 50-64, shooting 88-81–169 to finish a shot ahead of Jeannie Hillock. Terry Rickson was third at 180.
Anita Marciniak won the Super Seniors title for players 65 and over, with a shot of 79-82–161. Cathy Martin was second at 165 and Tori Langen third at 167.
Rapp, who sells residential real estate, said she got a tip from friends who played in Men's City Amateur a few weeks ago, which was very helpful.
"They said to avoid the big numbers. That was my main goal. If I was in trouble, do whatever I could to get back into position," said Rapp, who played for the College of Charleston from 2006 to 10.
Rapp said she had a rough start on Sunday, completing three bogeys, one birdie and one par on the first five holes. But she calmed down and pared the next three holes and birdied the ninth par 4 for a 37.
"It was the most messy 37 I have ever shot," Rapp said of his start in the final round. "What really gave me some momentum was the 11. I did about 50 feet for a birdie. I just tried to stay patient from there. I knew there was. had short holes ahead. "
The birdie of 11 was the first of three in a row. She also birdied the 15th par-5 and 17th par-4 and made an excellent top-down save from a bunker on the green on the 18th for a closing 31st.
"The most nervous I have ever been was on the last two holes. I was just trying to keep my cool," said Rapp. "This victory means the world has just returned to Charleston."
LEADERS
GLOBAL: Emily Rapp, 74-68–142; Rachel Wyatt, 78-71–149; Colleen Estes, 76-73–149; Kerry Rutan, 78-75–153; Olivia Erwin, 81-73–154; Lee Burton, 78-76–154; Regan Clifford, 81-78–159; Ella Drew Dodd, 82-80–162; Victoria Tsurutis, 81-86–167; Aubrey Merryman, 85-83–168; Lea Anne Brown, 82-89–171; Kristen Biety, 93-87–180; Jessica Daugherty, 98-88–186; Margaret Rodenberg, 91-95–186; Makenzie Norwood, 97-91–188; Nabila Piper, 94-99–193; Grace McMillan, 101-95–196; Jennifer O'Brien, 100-106–206; Caroline Chausse, 109-110–219; Ann Kimball Gustafson, 108-MDN.
SENIORS (50-64): Robin Moyer, 88-81–169; Jeannie Hillock, 85-85–170; Terry Rickson, 95-85–180; Tracy Thorne, 91-95–186; Marie Bâle, 92-96–188; Flo Gilson, 92-104–196; Miranda Rights, 107-92–199; Janine Essex, 108-104-212; Debbie Disher, 113-114–227.
SUPER SENIORS (65): Anita Marciniak, 79-82–161; Cathy Martin, 77-88–165; Tori Langen, 83-84–167; Sandy Bland, 85-90–175; Dianne Bowler, 90-96–186; Lynn Lillibridge, 101-96–197; Carole Davis, 101-103–204; Jeanne Bal, 111-96–207; Chiaki Kight, 100-107–207; Mélodie Murphy, 111-98–209; Susan shoemaker, 114-98–212; Sara Murphy, 113-116–229.