Charleston NAACP President Dot Scott Retires and Reflects on Challenges and Needs | New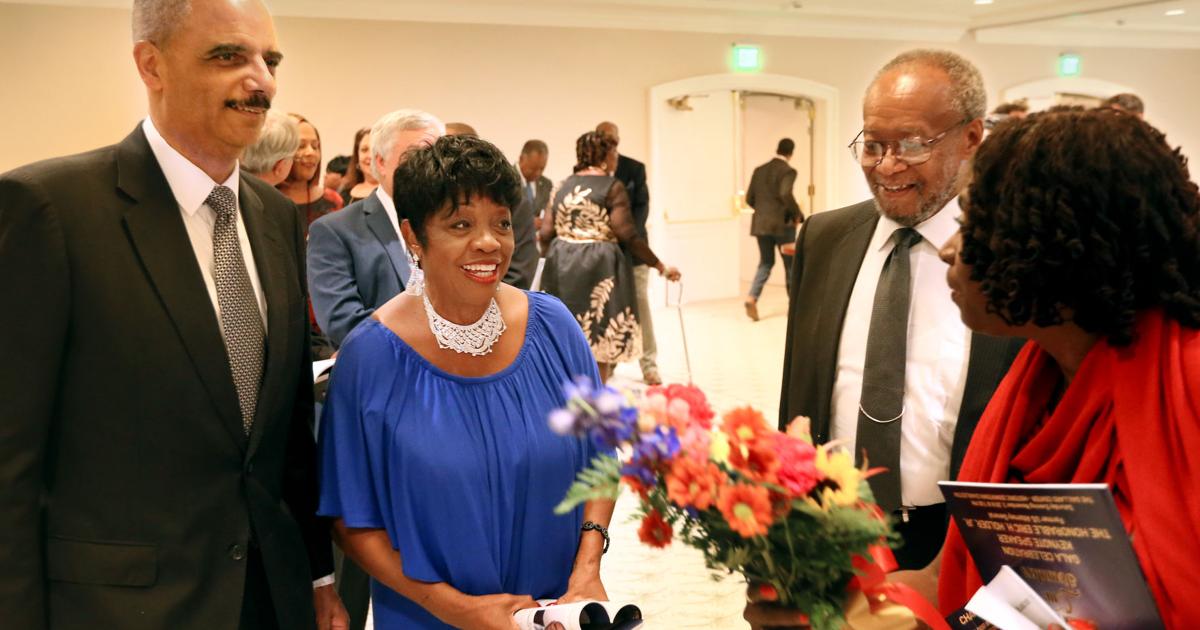 Dot Scott led the NAACP Charleston branch for 21 years, often raising her voice against discrimination and racism. Now, as she walks away from the legendary civil rights organization, she thinks about the constant need to push for change and the challenges that lie ahead.
Over the course of two decades, Scott raised the profile of the local NAACP branch, holding numerous press conferences, sometimes on very short notice, and confronting political and civic leaders on issues such as public education, the racism in the workplace, housing discrimination, gentrification. and more. She was a major force behind the annual fundraising banquets, which regularly featured top national leaders such as Hillary Clinton, Julian Bond, the Reverend William Barber, Eric Holder and Joe Biden.
Some found her style abrasive, but Scott insisted that it takes a strong will and a stiff spine, especially if you're a black woman, to speak out against injustice and corruption.
Public appearances are just the tip of a large iceberg, she said. Most of the time, she quietly fielded phone calls — maybe four or five a week — from people all over the Lowcountry complaining of abuse. Sometimes grievances are well-founded and Scott will work to broker some kind of peace; other times, she must explain how perceived wrongdoing is the result of economic forces indifferent to the struggles of her constituents.
When this happens, she expresses sympathy and tries to explain that there is not much the NAACP can do, she said.
Her years as president of the NAACP of Charleston constituted a second career. Her early career was with AT&T/BellSouth, where from 1971 to 2002 she was a sales and service manager in Charleston and a corporate trainer. The latter position required frequent travel to various cities such as Birmingham, Charlotte and Baltimore.
Since the start of the COVID pandemic in 2020, she and her small team of volunteers have mostly worked remotely. In March, the branch moved from its Columbus Street office in the East Side neighborhood to 117 Spring St. after its owner, PASTORS Inc., decided to renovate the building.
The Charleston NAACP is 105 years old. One of the oldest branches in the country, it was founded eight years after the national organization was established on February 12, 1909.
In recent years, he has shared the field of civil rights activism with a variety of other organizations, individuals, and movements, including Black Lives Matter Charleston, the Racial Justice Network, the National Action Network, the Charleston Activist Network, and United Forehead. Most are populated by young people whose activism was sparked by police and vigilante killings of black people, such as Trayvon Martin (2012), Michael Brown (2014), Eric Garner (2014), Tamir Rice (2014) , Walter Scott (2015), Freddie Gray (2015), Breonna Taylor (2020) and George Floyd (2020).
Scott, a 73-year-old North Charleston resident and native, said she hoped more young people would get involved in branch activities, but knew the NAACP's structured, top-down approach n did not necessarily appeal to young activists.
"Young people coming in, they want immediate leadership," Scott said. They don't always have the patience to be mentored and wait their turn. "It's hard to make changes when young people don't believe they have to follow the rules."
Scott said she was a believer in the participatory type of activism. She wants a seat at the table. It is based on a common sense approach. There is a place for confrontation – for people outside to bang on walls and shout through windows – but too often that kind of protest is rejected by the powers that be, she said. She doesn't want to be outside looking inside.
"You are prejudiced and ignored when your demands fail the pragmatic test and don't match reality," Scott said.
Intensify
Young activists have lost patience, said Daron Calhoun, coordinator of the Race and Social Justice Initiative at the College of Charleston's Avery Research Center. The fight for social justice has been too progressive, with too many episodes of pushback and back-pedalling.
"After Mother Emanuel, everyone said to be patient," he said, referring to the 2015 mass shooting that left nine worshipers dead. "We all said 'No, we're tired of waiting.'"
He and other young activists want Confederate monuments immediately removed from college campuses; they want buildings named for white supremacists to get new nicknames; they want police reform now; today they want to put an end to economic discrimination.
"People said you have to go to the shallow end and work your way to the deep end," Calhoun said. "We've been in the shallow end for years."
So no more silent marches that stray from the path, no more trying to convince those who refuse to be convinced, he said. When you allow racism and injustice to persist, you reinforce them. They are becoming a norm that few seem willing to challenge, he said.
Tamara Butler, director of the Avery Research Center, said the generational divide was overblown. Each generation includes moderates and revolutionaries.
"We have to move beyond the argument that the young are the radicals and the old are the pragmatists," she said. "Our communities are more complicated than that."
Some young people are good at logistics and strategy, some older people are good at speaking loudly and monopolizing the spotlight, Butler said. What activists need is a dialogue that leads to tough questions about how organizations should operate, what missions they should adopt, and how they can involve more participants.
"It's not that young people don't want to be involved," Butler said. "It's that people don't create spaces for them where their talents and strengths can be expressed."
What is needed, she says, is the development of learning pathways. Too often, organizations seem to have no succession plans. They fail to quickly identify strong leaders, recruit them, develop their talents and hold them accountable.
James Johnson, president of the Racial Justice Network, said there was room for all kinds of activism and all kinds of civil rights organizations.
"We need more people like Dot Scott to step up," he said. "Today's environment is very hostile; we need people to take his place. …She did what she could do while she was there. She made her mark. »
The Charleston NAACP constituency has shrunk in recent decades as the city's black residents move elsewhere, Johnson noted. Other NAACP branches, such as those in North Charleston and Goose Creek, took on more of the load.
But there is still a need for an NAACP presence in Charleston, he said. This is where many institutions are located. This is where public school officials work, where housing policy is formulated, where gentrification has a big impact.
The Racial Justice Network has been busy since Johnson founded it in 2020. It is active statewide and now has several youth chapters. It focuses on crime, discrimination, poverty, and other issues affecting African Americans.
Johnson hopes to find opportunities to collaborate with other civil rights groups, he said.
To make room
The Rev. Joe Darby, first vice president of the Charleston NAACP branch, said Scott was instrumental in revitalizing the group when she became president in 2001. Membership was lacking; there was no branch.
"There's an old hymn in the black church, 'Let the work I've done speak for me,'" Darby said. "She was an excellent president.
She has been at the forefront of major battles such as the removal of the Confederate battle flag from the Statehouse, and active in more modest ways, he said.
"She is relentless for the cause of civil rights," Darby said. "And she sorted out a lot of things without too much shouting. She did her job and she did it in a commendable way. »
Although there has been population displacement on the Charleston Peninsula, the need remains for a strong and vital NAACP presence downtown, he said.
First, the problems are often centered there, Darby said. Chapter members are not limited to the city. And, anyway, "you can't drive all the black people out of Charleston."
Darby said the October monthly meeting will result in the formation of a nominating committee whose members will develop a slate of candidates for all branch positions, present it at the November meeting, and invite attendees to submit their own. nomination petitions. (Anyone who has been a member for at least six months is eligible to throw their name in the hat.)
The Charleston NAACP will continue its work, Darby said.
"My personal hope is that maybe the branches will look for ways to work together," he said, adding that they needed to make more space for young people. "Hopefully there will be dialogue and cooperation in the future. It's a good time for chapters to sit down and review how we do things.